It's not often that I am tempted to spend money on licensed video game merchandise, but every once in a while, my willpower falters. That was the case when I saw the merch for Nintendo Live 2023, which is a four-day event coming to Seattle in September. There will be a pop-up store at the Seattle Convention Center, but if you can't make it to Washington, Nintendo is also giving everyone a chance to pre-purchase the merch online through June 30th.
Not everything in the collection is calling out to me, but I'll highlight the ones that are.
Nintendo Live 2023 – Coffee Mug | $19.99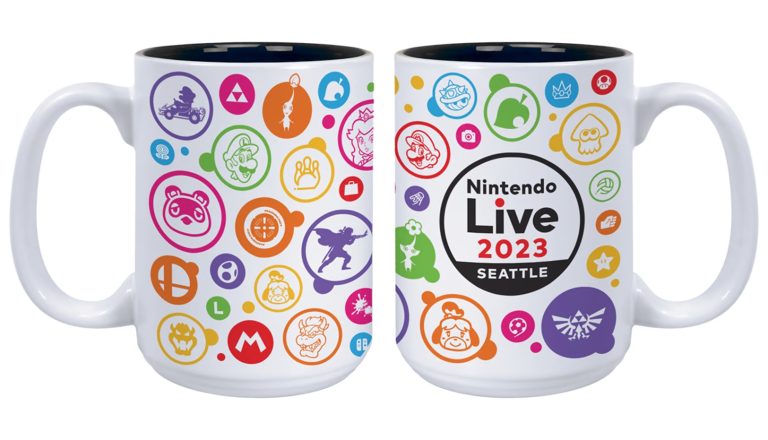 I cannot get over this coffee mug. It features logos and icons from various Nintendo franchises, including Animal Crossing, Super Smash Bros., Splatoon, The Legend of Zelda, Mario Kart, and Pikmin. At a glance, you may not realize that it's anything other than a colorful mug. Upon closer inspection, it's clear that the owner is, in fact, a nerd.
I appreciate any gaming merch that goes beyond simply slapping a logo on a white background. This mug slaps a bunch of logos on a white background. That's innovation.
Nintendo Live 2023 – Tin o' Pins | $39.99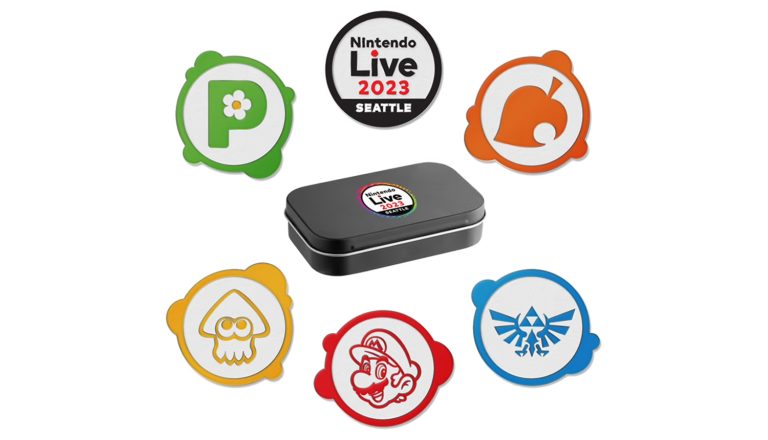 I have been collecting pins since I was a kid, so I was immediately drawn to the Tin o' Pins. The box comes with six 1-inch enamel lapel pins featuring iconography from Splatoon, Mario, Zelda, Animal Crossing, and Pikmin, as well as a Nintendo Live 2023 pin. They sure would look great scattered alongside all of my other pins, but $40 is a bit steep.
Nintendo Live 2023 – System Case | $19.99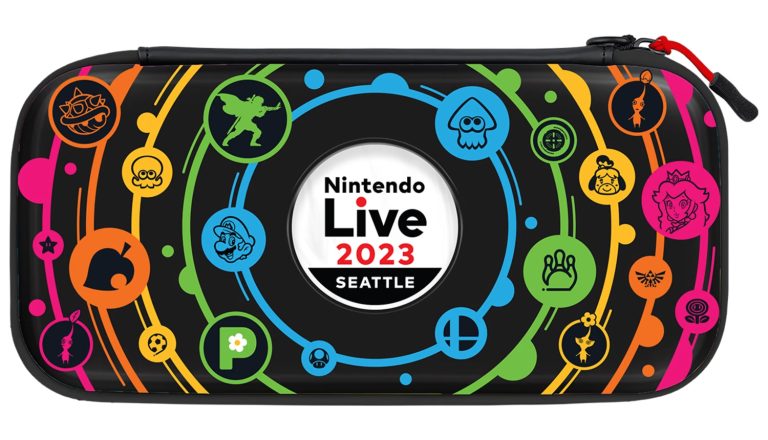 My ancient Zelda-themed Switch case has taken a beating over the years, and I've been on the hunt for a replacement. Beyond the great theming, this Nintendo Live 2023 case also features a slim pocket on the inside and an integrated stand. It's big enough to fit any system in the Switch family, including the Nintendo Switch OLED model.
All told, these tie-in products aren't terribly priced, so I might have to snag at least one of them. Nintendo says they'll start shipping in August 2023.